Nachi Cocom Beach Club in Cozumel
Nachi Cocom Beach Club in Cozumel
In November of 2004, Island Marketing and our Cozumel Cruise Excursion site welcomed the Nachi Cocom Beach Club in Cozumel  as our first exclusive beach break in Cozumel.  Nachi Cocom quickly became one of the most popular excursions on in Cozumel.   Located 15mins south of the Puerto Maya and International cruise ship, Nachi Cocom provides a private and exclusive beach experience for cruise ship passengers wanting to avoid the masses at other cruise ship sponsored beach clubs.
The Nachi Cocom Beach Club in Cozumel is located along a beautiful stretch of beach and boasts the best shaded seaside seating  in Cozumel.  Thatched palapas offer shade and the ideal cover for a relaxing date.
One of the highlights of the Nachi Cocom Beach Club experience are the staff who provide exceptional service.  Nachi Cocom's beach club package is only $55usd per adult,  $39usd per teen 12 to 15yrs, and $19usd per child 4-11yrs.  Your day pass includes a delicious 4 course lunch that is made to order from an excellent and varied menu.  All of your drinks, non alcoholic and alcoholic  beverages are included.  Long term staff members like Manuel or Joseph will ensure you are well take care of during your stay.
Nachi Cocom Beach Club in Cozumel Sample Menu: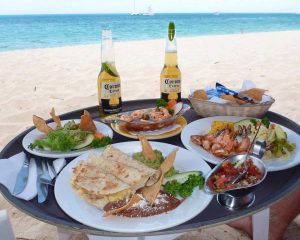 APPETIZERS

FRENCH FRIES
Crispy and salty.

NACHOS
Served with guacamole, pico de gallo & jalapenos.

GUACAMOLE
Original recipe, with onions, tomato, coriander and lemon.

CHEESE FINGERS
Crispy and golden fried portions of cheese, served with French dressing.

QUESADILLAS
Served with guacamole, choose between green or red tomato sauce.

CHICKEN FRY TACOS
Delicious golden fried tacos, stuffed with chicken, topped with sour cream, cheese and lettuce.

CHICKEN WINGS
Discover why they envy us!. Served with hot sauce or French dressing.

CHICKEN LEGS KENTUCKY STYLE
Here is the reason why the Colonel visited Cozumel so many times. Served with French dressing.

BABY BACK RIBS
Enjoy a delicious B.B.Q. Sauce, it is our secret recipe!

SOUPS

CHICKEN SOUP
Generous portion of chicken consomme, served with rice.

SEA FOOD SOUP
We don't have words for this, you need to try this SPECIAL of the house. Seasoned with Pernod.

ENTRES

HOTDOGS
With French fries.

CLUB SANDWICH
Delicious combination of bacon, cheese, ham and chicken, served with French fries.

BURGER
Prime quality beef, with or without cheese, served with French fries.

BEEF FAJITAS
Strips of prime beef, grilled with onions and green peppers Served with guacamole, retried beans and flour tortillas.

CHICKEN FAJITAS
Strips of chicken tender breast, grilled with onions and green peppers Served with guacamole, refried beans and flour tortillas.

SHRIMP FAJITAS
We use only the freshest shrimps in this dish!. Served with guacamole, refried beans and flour tortillas.

COMBO FAJITAS
Awesome combination: Strips of prime beef, tender chicken breast and shrimp. Served with guacamole, refried beans and flour tortillas.

FISH FILET PREPARED TO YOUR TASTE
Your choice: Grilled with butter, .garlic, Yucatecan style, breaded or fine herbs Served with rice and sauteed vegetables.

SEAFOOD COCKTAILS & CEVICHES

CONCH
Cozumel is not only famous by her beach, sun and palm's, here is the proof.

SHRIMP
Fresh and delicious, the perfect way to tan.

MIXED
Delicious combination of shrimp, conch, octopus and squid.

DRINKS
"QUALITY IS OUR COMMITMENT"

Soft Drinks
Purified Water
Lemonade
Iced Tea
Fruit Juice
Beer (Corona, XX, Sol, Tecate, Modelo)
Cheladas & Micheladas
Rum Bacardi
Rum Solera
Brandy Presidente
Brandy Don Pedro
Vodka Smirnoff
Vodka Wiborowa
Vodka ABSOLUT
Gin Gelbey's
Tequila Herradura Gold
Tequila Hornitos Young & Gold
Scotch J.W Black Label & Chivas Regal
Wine of the House Red & White
Amareto Di Saronno
Cocktails & Daiquiris
Cocktails & Daiquiris Virgin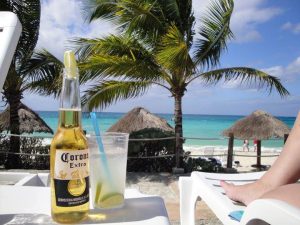 Our Nachi Cocom Beach Club in Cozumel has a little something for every one.  You can kick back and enjoy a relaxing beach massage or enjoy a thrilling parasailing flight or a visit to Palancar reef for the Caribbean's best snorkeling.
Our most popular beach break in Cozumel only caters to 100 clients maximum daily to ensure a private and personalized beach experience.  Be sure to book your spaces early while spaces allow.
Welcome to our Blog
We hope you are enjoying your visit to our newly updated site with improved features, which will make your shopping for our private and personalized Cozumel Cruise Excursions easier and more informative. Here in our new Blog, we will be sharing new tour updates, client reviews, and some fun and informative information about Cozumel, our excellent guides, and the many tours we offer.
Please let us know if there is anything special you would like to see in our Cozumel Blog.  If you have some stories, photos, or reviews from tours that you would like us to share with others, please email us at [email protected]
It means everything to our professional independent guides to know that you have enjoyed your experiences, and we welcome the opportunity to share your experiences and insights with others.
Since 2004 we have proudly served our many cruise ship clients in Cozumel. We look forward to taking our customer service to the next level with our new Cozumel Cruise Excursions Blog.
A sincere thank you in advance for your visit to our site, for your business past and present, and for helping us share the Cozumel Cruise Excursions experience with others.